Designed for retail florists, a GotFlowers website is by far the most powerful and easy to manage website compared to all other websites in the floral industry, with flexible and innovative features that allow florists to increase the value of an order.

Want to sell your own products? Tired of spending countless days to update your website every time before holidays?
With our central Admin Dashboard, your can easily manage all aspects of your website. Best of all, no knowledge of web programming or expertise is required. Just manage your business rules with simple commands in English.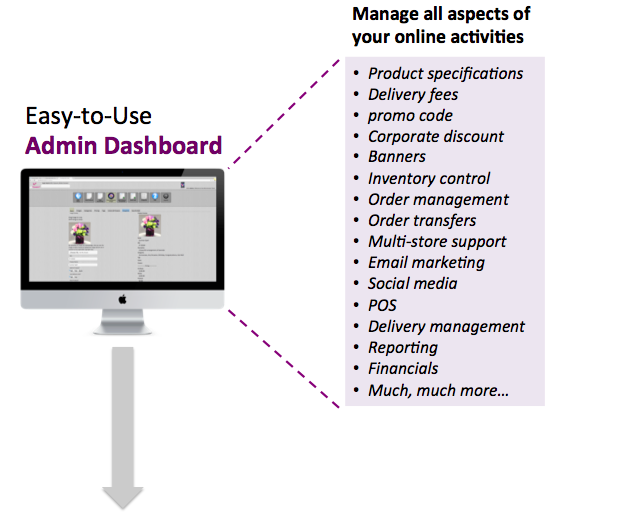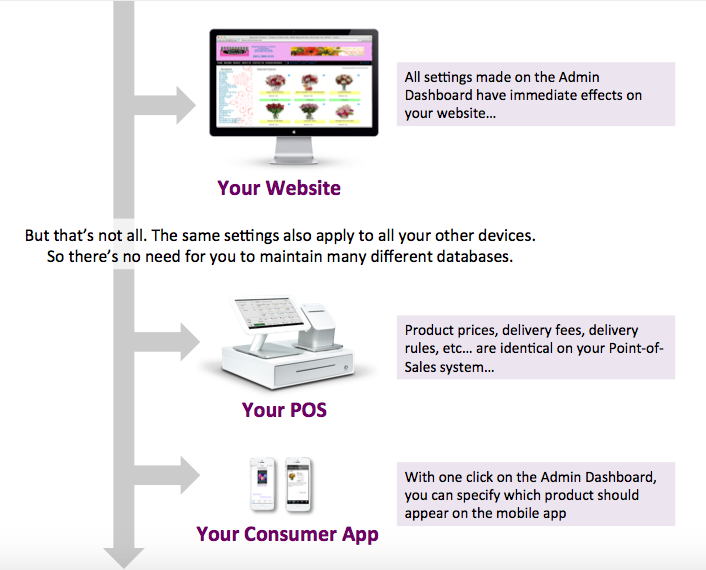 Benefits of GotFlowers websites
Increase Sales and Improve Profitability – We have implemented many money making features into your website such as the Personalized Greeting Card, distance-based, rush delivery fees, or to monetize your the Fiorella ribbon. These are some of the many features which not only help to grow your orders but also to allow you to keep more of your money with low transaction costs and no middlemen or intermediaries.
Ease of Website Management – With an easy-to-use Admin dashboard, you can change the look, content and behavior of your website with just a few clicks. No knowledge of web programming or expertise is required. And any changes that you make on the Admin dashboard are immediately seen on your website.
Quick Product Upload – With our GotFlowers app, you can now take a picture and a video of your floral arrangement and have it available for sale on your website immediately.
Powerful and Elegant – We spent almost 3 years talking to florists, camping out at flower shops to study and capture every minute activity involved in running a flower shop. The fruit of that hard work is a hosted software platform that equips the florists with the means to perform these tasks effortlessly. For example, we had observed that florists would take many days or weeks to get their products ready for their website before a holiday event. With GotFlowers, you can do all that in a matter of minutes. You can change prices, issue promo codes, set holiday delivery fee increases, move holiday products and special packages onto the homepage. Once the holiday period passes, you can quickly put everything back to where it was before that period. Yes, we did think of everything.
SEO Powered – Gone are the days of meta keywords type SEO. Today's SEO involves many sophisticated and multi-faceted techniques. At GotFlowers, we employ all of the latest techniques to ensure that your shop appears on top positions of the first page in Google Search results. And equally important… to stay in that position.
Cloud-based Advantages – Unlike the majority of websites provided by other vendors, our products are built on cloud-based technology. Why should you care? Imagine the ability to access and to make changes to your website from anywhere and at any time. Imagine never having to backup your data. Imagine never having to pay for expensive software or hardware upgrades ever again. And that is exactly what you get with GotFlowers.
Efficiency of an All-in-One Platform – All of our products (Website, POS, Consumer app, Automated Social Media, Email Marketing, etc) are tightly integrated on the same platform. When these tools talk to each other, they produce much better results. And when you make one change, that change takes effect on the other products. For example, when you change the price of a product, that price change is seen not only on your website but also on your POS and on your consumer app.