Take advantage of powerful mobile apps. gotFlowers offers a full array of mobile apps to help you run and manage your business.
gotImages? – Product Management App
With the gotImages? app, you can use your phone to take pictures of your arrangements and instantly make the available for sale on your website and POS. It really is as simple as it sounds!
Easy to Use – If you can take a selfie or a picture with your phone, then you'll have no problem taking pictures of arrangements
Instant – Your products are available for sale immediately. No more waiting two weeks for someone else to change the images on your website; it's entirely in your control!
Your Products – With the gotImages? app, it is incredibly easy to sell your designs. Customers love being able to purchase new and interesting arrangements, rather than the same, run-of-the-mill designs you see everywhere.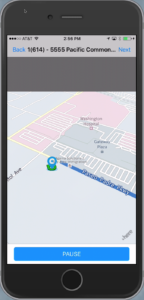 Trega – Delivery Management App
The Trega delivery management app makes deliveries easy for drivers and dispatchers alike! Create a delivery route in less than 60 seconds and be on your way!
Scan-and-Go – Imagine being able to point to each arrangement that belongs on a route and it's magically in the van, ready to be delivered. With Trega you can! All you do is scan the delivery ticket and it instantly is added to your driver's route! Amazing! You do still have to actually load it into the van but we're working on that…
Turn-by-Turn Directions – Never get lost again! Especially useful on busy holidays with lots of temp drivers, the Trega app automatically gives turn by turn directions for each stop.
Delivery Confirmations – Give your customers piece of mind – for each delivery, capture a quick signature and have a confirmation automatically emailed to the buyer. Nice!
gotOrders? – Mobile POS System
With the gotOrders Mobile POS System, you can take orders anytime, anywhere! All you need is an iPad and it works off of Wi-Fi or a cellular connection! It pairs with an EMV chip reader for processing physical cards.
*Person to take the orders not included.