Are you interested in growing your sales revenue? How about improving the average order amount by 20 or 25 percent? Get more revenue while improving customer satisfaction and exceeding expectations.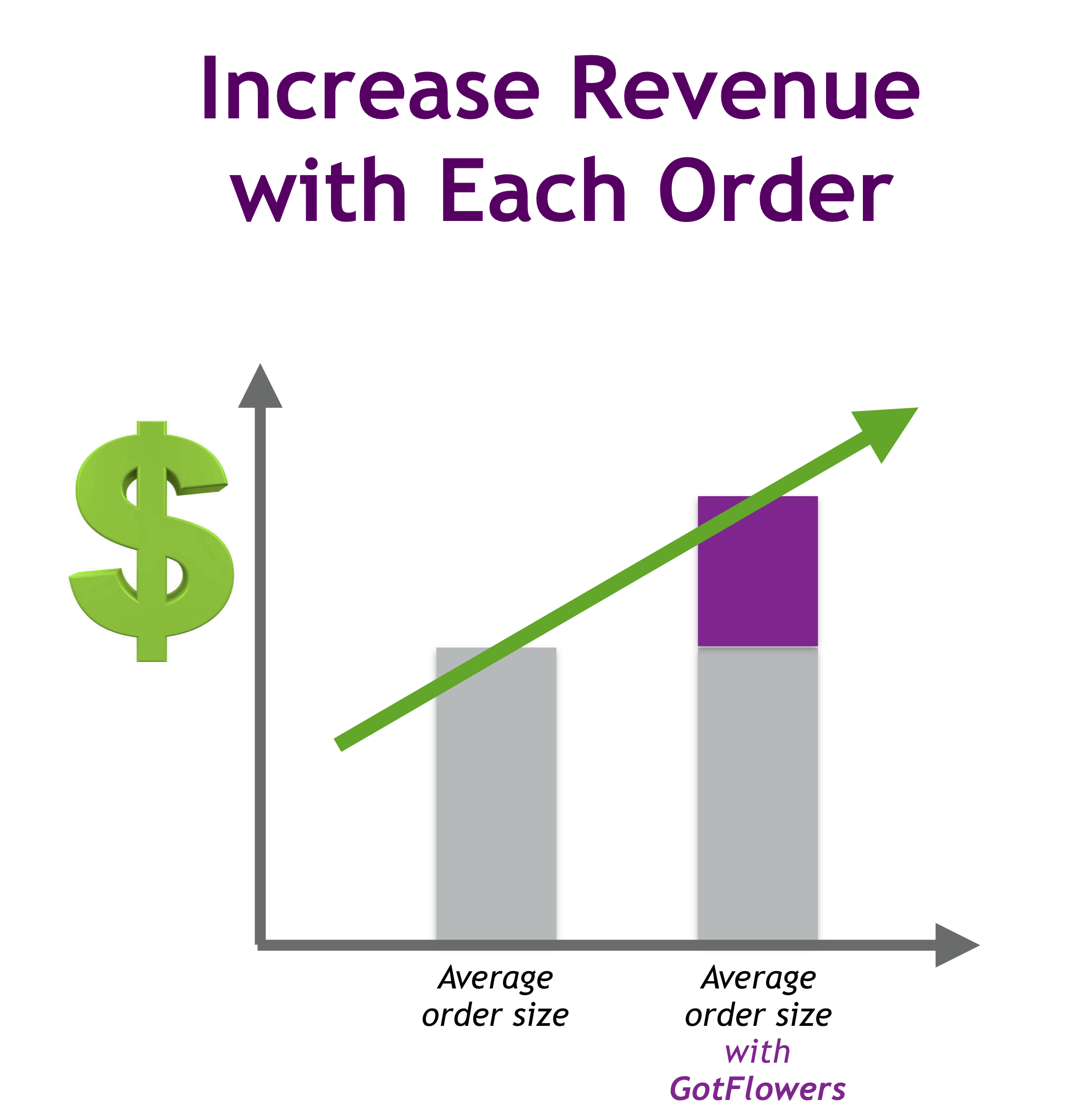 Does your existing website make it possible to generate more revenue or are you just getting an order with a product and a fixed delivery fee?
Are you meeting customers' expectation with your website or have you outsourced your website to another company to manage?
Are customers asking for a picture of the floral arrangement before delivery? Do you need to support rush delivery requests?
Do you get special requests from customers to keep the store open longer for a late pickup or for an immediate or rush delivery?
Are you meeting the needs and expectations of last minute buyers on a busy holiday?
Do you come in on a Monday morning and find that you have too many orders that need to be delivered that morning (AM delivery)?
Each of these scenarios entails extra work and effort on the part of the florist and accumulates as a hidden cost or expense over time. GotFlowers provides a "business rules module" to help address these scenarios. Additionally, GotFlowers also offers unique capabilities such as the custom greeting card feature to generate more revenue.
Here are some of features addressed by the "business rules module":
Pre Delivery Picture — Where the buyer wants a picture of the floral arrangement to be sent to the buyer before it is delivered to the recipient.
AM/PM Guaranteed delivery – where the buyer wants to ensure that the flowers will be delivered in the morning or in the afternoon.
Timed deliveries – Where the buyer wants the flowers to be delivered at a specific time or during a timed window.
Rush/Urgent Deliveries – Drop everything and rush the flowers.
Custom Greeting Card Buyers can upload a picture or Selfie and customize to create a greeting card that is printed at your shop and delivered with the flowers.
To see how GotFlowers can generate additional revenue for your business, please enter your email address to access our "Revenue Generator" calculator. The calculator has flexible options for the website alone or website and POS. We recommend using last year's financial data in terms of number of orders.
Based on past performance with other Florists on the GotFlowers platform, we can back up
The gotFlowers website is optimized for florists with a retail presence and the SEO capability eliminates the need to invest in a huge Adwords budget by as much as 50%
GotFlowers also provides other tangible benefits with improved operational efficiency and reduction in labor costs. This calculator has been implemented based on actual data gathered over the past few years with Florists using the GotFlowers platform.
Please enter your email address to access the calculator: